…
Why have some of the most epic looking pizzas on an emotional eating blog? Food that, if you don't savor, reduces some of life's overall meaning? Because you only live once. Eat well and enjoy a cheat meal every once in awhile.
Have you ever Eaten a whole Pizza on Cheat Day?
The answer isn't important, it's the fact that we try that counts.
…
You can almost smell it. In a clay pizza oven by the fire, cooked old school with loads of toppings. Even if it wasn't cheat day … C'mon.
…
Pizza is best when you can see the steam rising from it, and all of the toppings are at their tastiest. That only comes from eating at the restaurant. Even a 30 minute delivery in a warm take out bag reduces the full experience somewhat.
…
Why this was put on the grass I don't know. Maybe all that pepperoni made it so heavy that they couldn't fully lift it onto the picnic table.
…
This is a rather small, English muffin pizza. In the cheat meal world size isn't everything.  We like eating small portions, just lots of them.
…
I know what you're thinking, that it's vegetarian and therefore has no place in a cheat meal fantasy blog page. I concede your point …. but it still looks good.
Such a close up picture it looks like it's just pure, melted cheese and pepperoni in pan. Eat as much as you like and feel no guilt as if it was just that it would qualify as being Keto. That way, you can still have a cheat meal the following day.
…
So rich and heavy I'm not sure anyone can eat a whole one on cheat day, even The Rock. Still, meaning is found in the attempt.
…
You know it's going to be a good slice when the pizza comes up to almost the half way mark of a large pizza cutter.
…
Eating a salad as part of our cheat meal makes us feel better about cheating. We can tell ourselves that at least we're trying our best to be healthy.
I say ditch the salad or whatever else is used to not look bad.
My definition of health is to be good when it's time to be good and downright wicked when it's time to be bad.
Eat, drink and be merry.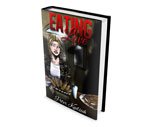 THE EATING LOVE GUIDE (FREE)
The Eating Love Guide has helped many people regain control of their eating patterns, resulting not only in weight loss but also better health and improved self-esteem. To read it online, click here.


SUBMIT A POST!
To post your cheat meal, click here. To share your tips, wisdom and/or emotional journey, click here.