…
Why have some of the most epic looking Grilled Cheese Sandwiches on an emotional eating blog? Food that, if you don't savor, reduces some of life's overall meaning? Because you only live once. Eat well and enjoy a cheat meal every once in awhile.
Have you ever Eaten a double Grilled Cheese Sandwich with cheese spilling over on all sides on Cheat Day?
The answer isn't important, it's the fact that we try that counts.
…
Triple layered grilled cheese that looks like it was cooked over a camp fire. The simple fact that it's resting on a log means it's good.
…
This is a double grilled cheese sandwich but what makes it taste good is the paper it's wrapped in. All junk food tastes better when they come in their default packaging. If you don't believe me ask any kid how important the wrapper or box is.
…
I'm not a big fan of adding anything to a grilled cheese sandwich unless it's part of the bacon family. This delicious looking one has ham inside which is probably overpowered by the river of processed cheese. It isn't the best quality cheese, but all rules go out the window on cheat day.
…
I know, I know. It's the third grilled cheese so far in this series that has some green on it when green things are supposed to be banned on cheat day. True enough, but look at the flowing mozzarella on that thing. If it were a dessert it would be a smore.
…
Another grilled cheese with something inside it. This time it's salami which, as stated above doesn't violate the bacon family rule. It could be a bit bigger but the fact that it reminds me of pizza makes me give it a thumbs up and belongs on this epic grilled cheese page.
…
Grilled cheese sandwiches are good as appetizers too. So what's the main course? Look closely and you'll see the answer. Another, much larger grilled cheese sandwich. What did you think it was?
…
Bacon grilled cheese. Something to add in to your cheat day sandwich which offers some variety and spices things up. Oh, and in case you don't get enough salt with the cheese, bacon and butter, there's some chips on the side … and in the bowl behind it as well. Make sure you enjoy this with a tall glass of water, or six.
…
Ah, some size. Although I prefer a ratio that has more cheese for grilled cheese sandwiches, sometimes having some soft yet crunchy, warm bread hits the spot. Wait, what do I mean, "sometimes?"
…
Swiss cheese is strong and not to everyone's taste but I'm including it on the page due to the fact that whoever made this knew enough to make a double portion, and for the sheer amount of cheese used. Just look at that bottom layer.
Some people say you need a more developed palate to enjoy Swiss cheese and therefore a grilled cheese made from it.
The best way to find out is to try a bite … of someone else's. Cheat day etiquette says never take a chance that may ruin cheat day. Instead, have someone else take it.
Eat, drink and be merry.
…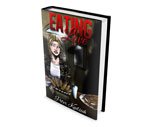 THE EATING LOVE GUIDE (FREE)
The Eating Love Guide has helped many people regain control of their eating patterns, resulting not only in weight loss but also better health and improved self-esteem. To read it online, click here.


SUBMIT A POST!
To post your cheat meal, click here. To share your tips, wisdom and/or emotional journey, click here.