It's mainly a distraction.
It can be healthy for a few minutes to help bring attention to your issue, and to ignite a fire underneath you in order to take action.
But anymore than that and you are doing it to distract yourself from the problem.
1- You are overwhelmed (and maybe unaware of ) by the powerful emotions that underlay your emotional eating and so feel helpless.
2- Resentment; You don't want to give up your eating.
3- You don't want to face the underlying loneliness, anxiety and emotional mess that is underneath. It's painful.
So you distract by beating yourself up, by justifying it, by admitting it even (to pretend that admitting it is actually doing something productive).
It's all okay though. Everyone does this.
You simply need to manage and start to taking control of it, which you can do by reading the main page of this blog.
– EatingLove
…
Check out, why it's okay to drink milk on a diet.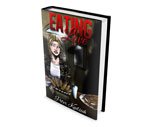 THE EATING LOVE GUIDE (FREE)
The Eating Love Guide has helped many people regain control of their eating patterns, resulting not only in weight loss but also better health and improved self-esteem. To read it online, click here.


SUBMIT A POST!
To post your cheat meal, click here. To share your tips, wisdom and/or emotional journey, click here.