…
Andrea's Cheat Food Share
…

TOP CRAVINGS
"I'm sort of boring this way. I don't need chocolate or big cakes to satisfy my cravings when I get to that point. Plain old chips, and usually the whole bag."

MOMENTS OF WEAKNESS
"I don't eat that healthy. I eat little most of the week and then snack. Then all of a sudden I feel this craving overtaking my body and wolf down a bag. It's the pent up stress. I should eat more regularly."

BEST DIET TIP
"I'm not sure I am the best person to give advice here as my diet sucks. But I stay thin from not eating much sugar or carbs. That is one thing I advise."
Thanks for this site and for everyone who contributes something. It helps keep me sane.
…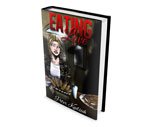 THE EATING LOVE GUIDE (FREE)
The Eating Love Guide has helped many people regain control of their eating patterns, resulting not only in weight loss but also better health and improved self-esteem. To read it online, click here.


SUBMIT A POST!
To post your cheat meal, click here. To share your tips, wisdom and/or emotional journey, click here.