…
The issue with weight loss, as with most things in life, is that it is not simple.
Certain methods like eating fewer calories contain truth, but alone are not enough to be a full solution.
Here are 4 complications with the calorie counting theory:
If calorie counting was the answer then:
…
1- WHY DON'T WE WASTE AWAY INTO NOTHING?
If we eat fewer calories than we take in then over the long haul we should be left with nothing but our bones.
Assume we eat 100 calories/day less than we burn (which is almost impossible to measure accurately). We would always be in deficit and so according to the calorie counting theory we'd continue to lose weight indefinitely.
"You could just stop dieting once you reach your desired weight," I hear you say. Sure, again though, how can you be sure you are eating exactly what you need to maintain your weight? If you eat a bit too little you'll lose more weight and become unhealthy and too much you'll start to gain it again.
That kind of balancing game seems so stressful that you'll probably die of an early coronary while trying to avoid diabetes. So many factors go into our metabolism that even if we do the same things everyday we still have slightly different levels of stress, sleep, activity etc., which will impact what how many calories we burn that day.
2- WHY DO SKINNY PEOPLE WITH HIGH METABOLISMS NEVER CHANGE?
We all know people like this. They eat anything they want and the scale never budges. Cheesecake and then seconds of cheesecake while washing them down with a creamy, milk shake. And this for their lunch dessert, wait until dinner.
Without checking the research I feel pretty safe saying that these people generally don't own a calorie journal, and would likely look bewildered if you asked them how many calories they eat or burn per day.
They eat a lot on Monday, then normally on Tuesday and Wednesday might skip a meal. They are all over the place and no matter what they do they neither gain nor lose weight?
If calories were the metric we considered to be the solution to weight loss/gain then their fast metabolism would have them having to eat a ton everyday or risk becoming skin and bones.
We know that doesn't happen. Their bodies stay the same no matter what.
3- WHY CAN PEOPLE EAT MORE CALORIES ON LOW CARB DIETS AND STILL LOSE WEIGHT?
So you decide to go Keto. You put away the carbs and start filling your fridge with eggs, cheese, meat, cream, sausage etc. and go to town.
A month later you weigh yourself and you lost weight? Even though you ate just as much if not more calories than you usually would.
Go to any Keto forum and you'll read stories of people who lost weight eating just as much as they used to. What changed was the types of calories they consumed. Less to no carbs and lots of fat.
So I guess that means that low carb is THE answer?
No. Again that would be making the same mistake the calorie counters do, having 1 meta solution. Eating low carb is healthier and people do lose weight but at some point if you continue to eat way more calories than you burn your weight loss will plateau and you won't be able to lose any more until you lower your calorie levels.
4- WHERE DOES VACATION WEIGHT GO?
Ah my favorite.
Everyone gains about 5 lbs on holiday. It's a part of the experience of taking a trip – and the reason why airplanes burn more fuel on the way home than on the way there.
We gorge at the buffet and come home with 18,000 more calories around our waist (3600/lb X 5 lbs).
We come home, reinsert ourselves into our routine and within a few weeks the weight's gone.
Where did it go?
My theory is that the weight magically disappearing is included in the price of the vacation. If you look at the fine print on the hotel brochure you'll see that they offer magic calories at no extra cost. But nobody ever reads the fine print.
If we get return to our normal weight then according to calorie counting theory it means we would have had to burn 18,000 extra calories within a month. If we require 2000 calories/day then that means we'd have to eat nothing for 9 days. Being an expert in math, I can say with authority that it doesn't add up.
Yet the weight is shed regardless.
We adapt to our environment and that includes our food environment too.
We lose weight by managing our insulin using these 3 approaches.
…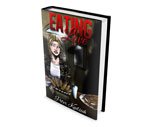 THE EATING LOVE GUIDE (FREE)
The Eating Love Guide has helped many people regain control of their eating patterns, resulting not only in weight loss but also better health and improved self-esteem. To read it online, click here.


SUBMIT A POST!
To post your cheat meal, click here. To share your tips, wisdom and/or emotional journey, click here.